Car Shipping Services Guide
Why Shipping A Car is Easier and Cheaper Than Driving?
Gas prices constantly increase.
Car shipping could be tax deductible. 
Spare wear and tear on your vehicle. 
Save time, hop on a plane and relax.
When we talk about auto transport services, there are a few main questions you might ask. Here we will discuss how auto transport works and what you need to know about car shipping services at large.
Major questions people ask about auto transport services:
What options do I have when I need to ship a car?
What services does an auto transport company offer?
What is open auto transport carrier?
What is enclosed auto transport carrier?
What is an expedited service?
What is door-to-door auto shipping service?
What is terminal-to-terminal service?
What is a top load vehicle shipping service?
How do I know if I am getting a reasonable car shipping quote?
How does auto transport work?
Auto dealers, moving companies, rental car companies, military personal and private customers transport vehicles constantly. Many large scale corporations employ auto transport companies to move their company vehicles as well. The auto transport industry has been growing in the last decade because individuals and businesses understand that it is more efficient to transport a vehicle than to drive it.
What options do I have when I need to ship a car?
Moving a vehicle from one location to another can be done in two ways – by hiring an auto transport company or by having someone else drive the vehicle. Both option can be a good solution depending on distance, your budget and personal preferences.
Hiring an auto transport company
Employing an auto transport company to ship your car is the best option when you need to move it more than 300 miles. Businesses and private customers hire auto transport companies on regular basis. When you search for an auto transport company though there will be three entities you will encounter online – broker/carrier companies, auction websites, lead generator websites.
With an auto transport company customers can directly choose between open and enclosed carriers. You can request a car shipping quote online or call the company directly to discuss your options and price.
Most businesses and individuals use broker companies. A broker manages your shipping order from start to end. Most of the companies you will find online are auto transport brokers who have a tight network of single owner operated carriers. 90 percent of the carrier in the country are small, single owner operated companies. Small companies are the engine of the auto transport industry. Moreover, this system of small broker and carrier relations keeps the industry in balance and ensures against monopolization of the market by large corporations.
Online you will often find auction websites. We do not recommend the use of such websites because on this platforms underbidding wars drive the prices down to unrealistic rates. When you book on such a website, with some company that has given you the lowest price, you end up waiting for more than ten days for a carrier to pick it up. We encourage customers to research beyond first page of Google Search. Talk to a few companies to get the idea of what an average auto transport rate looks like.
The third entity found online is lead provider websites. This type of websites often look like they are the actual company, but in reality they are not. These websites are neither a carrier nor a broker. A broker is licensed and bonded to contract with licensed carriers. Lead provider companies collects customers' information and then sells it to brokers/carrier companies. After that you receive several calls in a matter of hours.
Find someone to drive or hire drive-away company
Driving could be an option and it is usually bearable by most drivers if the distance is not more than 300 miles. If you can find someone to drive your car for you that could be cheaper in some cases. Yet that is not always easy. Driving across the country is not for everybody, especially not for snowbirds. If you are a snowbird we recommend that you hire an auto transport company. Interstate highways are extremely busy and driving could be potentially dangerous.
If you can't find a friend or a relative to drive your car you can turn for help to drive away companies. These are companies that contract with people with good driving record to drive your car to your desired destination and then fly back. This is not necessary a cheaper option. Drive-away companies usually have basic requirements for their drivers – they check background and driving history. If you decide to do that you should request to see references for your driver.
What auto transport services does Corsia Logistics offer?
Corsia Logistics offers the two main types of auto transport service carriers – open and enclosed. You can also request expedited service. Both types of services differ in price and in type of carrier. For a nice visual illustration of the main differences check our info-graphic or simply call us to discuss your preferences. Additionally, the services split in door-to-door and terminal-to-terminal.
Open auto transport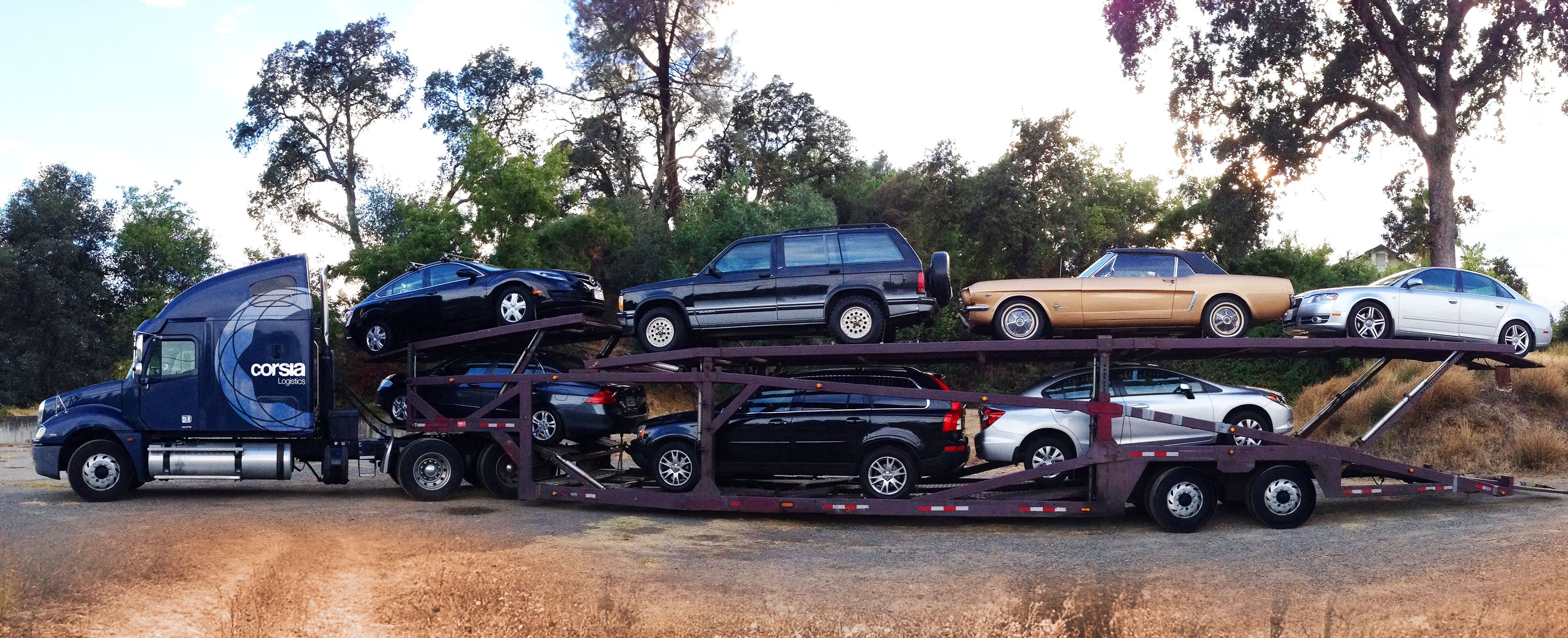 Open auto transport carrier is the most popular vehicle transportation method. It is the standard in the industry. Open air carriers make up about 90 percent of the auto shipping fleet in the US. These types of carriers can fit more cars on the trailer and make auto transport more efficient. Because of this, it is the less expensive method of transport.
Enclosed auto transport
Enclosed carriers are a preferred solution for high-end sports, luxury and classic automobiles. Enclosed, or covered carriers are soft and hard sided and they protect from weather and road elements. This makes this service a more expensive option. Thus, if you prefer more protection for your vehicle expect anywhere from $300 to $400 more.
Expedited auto transport service
If you need your vehicle on an exact date, or by an exact date you can request expedited service. This is a service that cost a premium and you will have to be prepared to pay sometimes double the price of a regular service. Expedited price rushes the service and basically asks carriers to discard other orders in order to serve your route. Sometimes this means that we have to search for a single car carrier ready to take your car to your destination within your desired time frame. Single car carriers in general cost more, and then when the service is expedited this additionally increased the rate.
What is door-to-door auto shipping service?
Door to door service is the most popular among private customers. This means that the carrier will pick-up the vehicle from your door and deliver it to your destination address door. We advise customers that the carrier will come for pick-up and delivery as close to the door as legally possible. Some residential areas have restrictions for large trucks. In this case you can meet the truck at a nearby shopping plaza to take delivery or drop of for pick-up.
What is terminal-to-terminal service?
This is when your vehicle is delivered at a terminal. In some cases customers also take their vehicle to a terminal for pick-up. Terminal auto transport service is not the best option because terminals are often outside the city limits, which means you will have to find transportation to and from the terminal. It could be a cheaper option, but keep in mind that you will need to find, and maybe pay, for transportation to and from terminal.
What is a top load vehicle shipping service?
A top load is when your vehicle is loaded on the top deck of a trailer. This is a service that can be requested for an additional charge. Loading a car on the top deck guarantees against possible leaks from other vehicles and offer higher protection from road debris when the open air. The extra charge for a top load is around $75.
How do I know if I am getting a reasonable car shipping quote?
When you have to ship a car, you should get the best value for your money. It is the same as any other service or product you purchase – you will get what you pay for.
In order for us to accommodate your shipping requirements we have to take into considerations all factors that play a role in the car shipping rate formation. Therefore, the more flexible you are when booking your auto transport services, the easier it will be to find more affordable prices.
We will not charge more than the fair market price because we want to keep you as a customer. We constantly monitor the prices and will deliver an accurate quote. We will provide you with a correct quote and schedule your transport easily.
Our quotes are manual – we do not use a calculator to deliver a price quote. The most accurate prices that will ship your vehicle in a timely manner are manual. Learn more about the difference between manual and automated pricing.
Corsia Logistics rates are manually quoted which makes them affordable to the customer and acceptable by the carriers. Real rates that will ship your vehicle in a timely and professional manner. We manually track supply and demand fluctuations and quoting only current market prices. Our team of logistics experts will always tell you how important daily supply and demand is when it comes to correct pricing. A manual rate is a golden mean – an average rate that is not too high and not too low. A realistic cost to ship a car depends on several factors that require careful analysis.
Many companies use car shipping quote calculator, which unfortunately often delivers misleading prices. Besides inspecting the price quote you receive, you have to verify licensing, insurance and also customer reviews online. Most trustworthy companies will have great customer reviews online, but they should also help you understand how auto transport works.
How does auto transport work?
No matter the type of service, the most important is to trust the company you choose. Your car is your prized possession and when you are about to hand it over to someone you need to feel at ease. One way to feel safe and secure is when you know how it all works.
Get a free car shipping quote online or by phone. Call and discuss your needs and options with Corsia Logistics.
Schedule your shipment and choose first available pick-up date. Then relax.
The next step is to prepare your vehicle for transport. Wash exterior and remove detachable parts. Do not load any personal items inside the car.
At pick-up you should perform vehicle inspection, alongside the truck driver. Walk around the car with the carrier and mark down any preexisting scratches.
At some point, 12-24 hours in advance you will receive a notice with an estimated delivery day and time. Keep in mind that it is only estimate.
At delivery you need to inspect the vehicle again, sign Bill of Lading, and pay any remaining balance.
You will have to remove any personal belongings from your vehicle. Some truck driver allow a suitcase or a box in the trunk. Sometimes, for an additional fee you can load more stuff. You, or someone on your behalf, should be present at the delivery for inspection and signing the Bill of Lading. For additional auto transport tips please review our FAQ section. We are here to answer your questions and help you understand the auto transport process. If you have never transported your car before, don't worry we will be with you from start to end. Now that you have learned more you can request a quote online or call (818) 850-5258. Thank you.
Save
Save
Save
Save
Save
Save
Save
Save
Save
Save
Save
Save
Save
Save
Save