Classic Car Shipping – This is How We Make History
Collecting classic and antique cars is a remarkable hobby – transporting them requires remarkable people. Request your auto transport quote online or call our team.
How much does it cost to ship a classic car?
Classic car shipping costs more when you opt for higher protection with enclosed trailer. The price of enclosed is due to two main reasons – truck availability and insurance. For enclosed trailers, to transport classic and luxury automobiles they must have coverage often as high as one million dollars.
The cost to ship a vehicle depends on a few main factors. It is in your best interest to understand them so you know what is the real cost of shipping a classic car. A realistic price is always based on distance and location, vehicle make and model, type of carrier, whether the vehicle is running or not and supply and demand. A decisive factor is the current supply and demand. So, when you ask yourself how much does it costs to ship a classic car, keep in mind that this is what ultimately decides the final price.
Classic cars are passion, and passion is life!
Owners of antique and classic cars employ much of their time to find and restore their vehicle. To ship a classic car you need an experienced auto shipper that pays extra attention and care, when loading and unloading the automobile. Classic car enthusiasts take great care of their vehicles. They need to know that, when their vehicle is thousands of miles away, it is in good hands.
In our guide, we will provide you with answers to the most common questions about shipping a classic car. Classic automobile transport is different than shipping an everyday car. You need the right vehicle shipping company. Classic cars require special attention and in most cases enclosed carrier.
How does classic car shipping work?
We make shipping a classic car a flawless experience. Our custom is to educate our customers. We explain the auto transport process in details, and guide you through the steps from booking your service to delivery at your door.
When it comes to moving a vehicle you have two main options – one is to hire an auto transport company and the other to book a drive-away service. When shipping a classic or antique automobile, however, hiring an auto transport company is the standard. Working with a professional logistics company is what businesses and individuals from across the country prefer.
Auctions and auto dealerships always hire auto transport companies to transport their automobiles. Private customers prefer that option as well.
What options does a classic car shipping company offer?
When transporting a classic car, a shipping company usually offers open or enclosed carrier, door-to-door service, top load service, expedited service and sometimes a single car carrier service. Corsia Logistics offer all those types of auto transport services to ship a classic car.
Open auto transport trailer
Open auto transport is the standard method in the industry. It is the most popular and widely used type of auto shipping service. Almost 90 percent of the carriers in the country are open air transporters and thus this is also the fastest service. However, open carriers are not recommended for classic automobiles. Loaded on an open carrier the vehicle is exposed to weather and road elements and the chances of getting a chip are higher and when inside a covered trailer.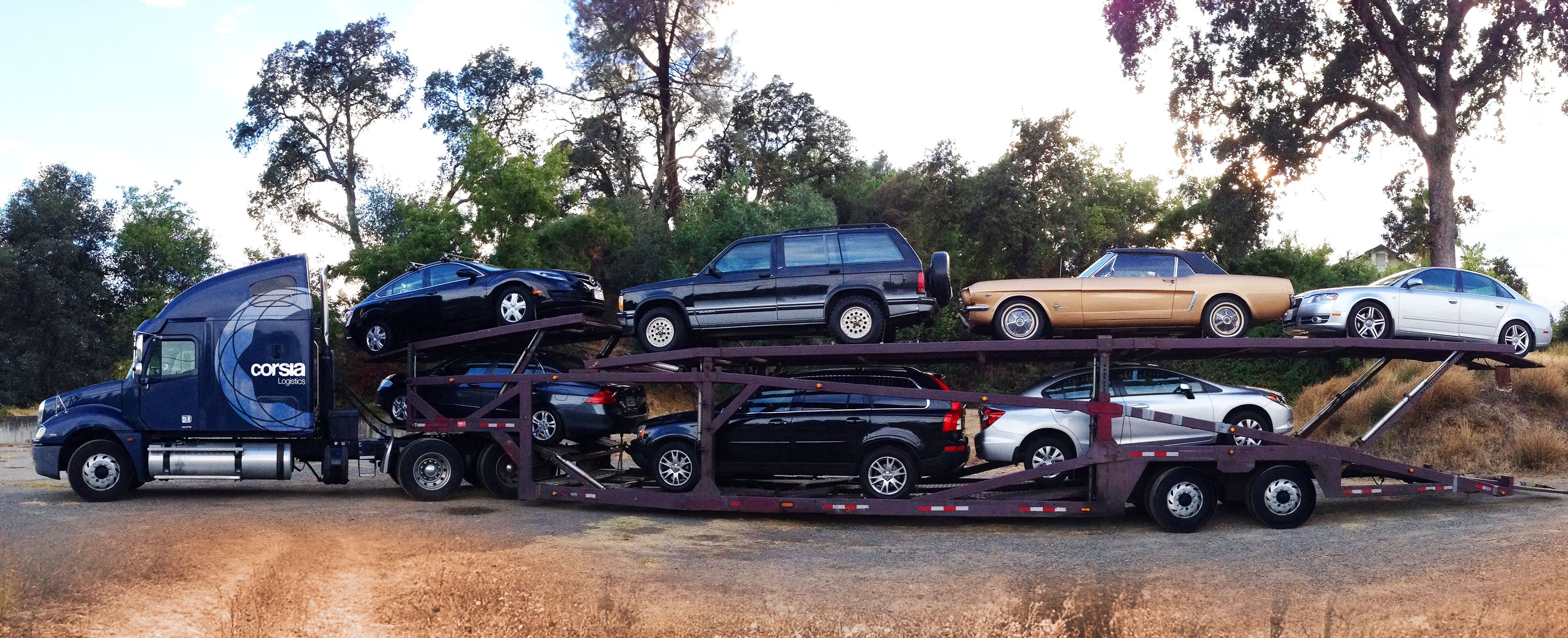 When shipping a classic car, it is recommended to book enclosed auto transport carrier that will protect the vehicle from road and weather elements.
Enclosed auto transport trailer
Enclosed carrier is also known as covered and it could be soft sided or hard shell. This type of transport provide the highest protection against weather and road elements. When the vehicle is inside a covered trailer there is no chance of any weather related damage or flying road debris to hit the vehicle. Because of the greater protection transport via an enclosed trailer is more expensive.
Door to door service
Door-to-door service is what most private customers choose. This type of service translates in vehicle pick-up from your door and deliver it to your destination address. Some residential areas have restrictions for large trucks, and this means that we will pick-up and drop-off the vehicle as close to the address as legally possible. If a residential or business area does not allow for large trucks to enter then customer can meet the truck at a nearby shopping plaza.
Expedited service
An expedited auto transport service is when you need your vehicle on an exact date, or by an exact date. Customers have to be prepared to pay a premium price for this type of service. Just like when shipping a parcel. Owners of classic automobiles often need expedited service, when they need to take their automobile to a classic car show or auction.
Single car carrier shipping service
Sometimes, for some really special cars, the owners prefer a single car carrier. This is a very specific request and it also often costs almost double the standard price, especially if the carrier is enclosed. In this case our agents have to search for a single car carrier ready to take a car on a specific route within a desired time frame. This makes the service quite costly and often it slows the whole shipping process because very few of these carrier roam the country. Most of the single car carriers only serve locally and to book them for a long distance trip it costs a premium.
Save
Save
Save
Save
Save
Save
Save
Save
Save
Save
Save
Save
Save
Save
Save
Save
Save
Save
Save
Save
How to prepare my classic vehicle for shipping?
It is very important to prepare your classic car for shipping. You should do a few things that will make the process easier for you as well for the carrier.
Clean your classic car
To have a clean car is very important for proper inspection. When the car is clean you will be able to see any preexisting damages and mark them on the Bill of Lading. This way at delivery, when you inspect the vehicle again, you will know of any new scratches. In the unfortunate event of any damage, you will have both your pick-up and delivery inspection reports to compare, and use to file a claim.
Check your vehicle with a mechanic
When shipping a classic car it is very important to make sure it is running, if it has been booked as running. When the drivers comes to pick-up the vehicle and it is not running you may have to pay for re-booking if this driver is not equipped to load a non-running vehicle. When we know a vehicle is not running, we reserve a carrier with a winch or fork lift to load it.
Remove spoilers and secure soft tops
The third thing to remember is to remove any detachable parts. This could be spoilers, special side mirrors, new back or front bumpers or any top racks. Additionally, if your car has a soft top you need to make sure it has been firmly secured and closed.
Learn more, have peace of mind.
The car shipping company has to be licensed with The Department of Transportation and insured to guarantee that the vehicle is fully covered while in transit. Moreover, the relocation coordinators have to understand the classic car transport process completely. Corsia Logistics is fully licensed and our team is experienced in shipping classic cars.
Our team understands the importance of providing safe auto transport for custom, exotic and classic vehicles. We work with the most reliable and experienced auto transporters to provide safe and sound shipping of your automobile. Speak with an agent today and they will explain the process of shipping a classic car. We offer classic car hauling service nationwide. No matter where in the country you are shipping a classic vehicle, expectations of quality auto transport service is a reasonable demand and we provide it daily. Whether this is a car just purchased online, or being moved to a car show, or to your vacation home, we will provide reliable enclosed or open auto transport.
Corsia Logistics' team knows how much time, efforts and money you have invested in your classic car. That understanding helps us see the true piece of art you are trusting in our hands inspiring us to protect it by providing the best auto transport service.
Request a car shipping quote online or call. Our team works hard every day to make sure our customers are informed and understand the auto transport process. We will answer all of your questions and help you feel at ease when you are shipping your classic automobile. Your peace of mind and your vehicle's safety is our priority. For additional information and to for answers to more car shipping questions please contact us online or visit our Hot it Works section or our Questions page. Thank you.