Customers often wonder about the difference between the two types of auto transport. In our guide you will find all about open and enclosed auto transport carriers. Why and when to use either one and what is the price difference. We will help you figure out how to choose the best method for your vehicle and budget.
We will answer the following questions for you:
What is an open auto transport service?
What types of open carriers can I choose from?
What is an enclosed auto transport service?
What types of enclosed car carriers can I choose from?
What are the differences between open and enclosed carrier?
How much does each type of auto transport cost?
How do I choose the best type of transport for my vehicle?
Relocating a vehicle by driving it can be a significant expense. Gas prices constantly fluctuate meaning fuel will be a major expense. One should also add the wear and tear, and the time spent on the road to column expenses, and the picture is clear. Driving could be an expensive activity, especially when it is long distance. We consider any distance longer than 200 miles long. Moreover, driving across the country is not for everybody. Drivers without previous experience should think twice before embarking on a long distance trip.
Our recommendation, for those who are not sure in their driving skills, is to hire an auto transport company. Booking an auto mover means you will have to choose between two methods of transport – open and enclosed auto transport.
Open Vs. Enclosed Auto Transport Guide
Check out our info-graphic to review the main difference between open and enclosed auto transport.

What is an open auto transport service?
This is the most popular method of transporting vehicles. Thousands of people and companies move vehicles across the country and most of them choose an open car transport. This type of carrier works for any make and model, unless the vehicle has been significantly modified. If your vehicle is too low or too high, it can still be transported via open carrier. It will just cost more. In rare cases regular, multi-level, multi-car carrier may not be able to transport a car.
You can ship an every day Honda, as well as a Porsche, on an open carrier. Shipping a car on an open carrier exposes it to weather elements such as sun, rain, snow, wind, and to the road elements such as dust and road debris. This means that there is a chance of a chip on the paint or anything else the weather or the road can cause. Because of this, and not only, it is a less expensive transport option than enclosed.
The other two major options that make the service more affordable are availability and efficiency. By availability, we mean that there are more open car carriers on the road than enclosed, which makes them readily available as soon as you book. That is why we call it the standard method of car shipping. About 90 percent of the all auto shippers on the road are open carriers. Efficiency is when more cars can be transported at a single haul. Most of the open car carriers can fit anywhere from 7 to 10 vehicles on their two levels.
What types of open carriers can I choose from?
Three main types of open auto transport carriers are most widely used.
double level multi-car trailer
single level multi-car trailer
single-vehicle dully truck with a tow trailer
Double level multi-car carrier – the most popular type.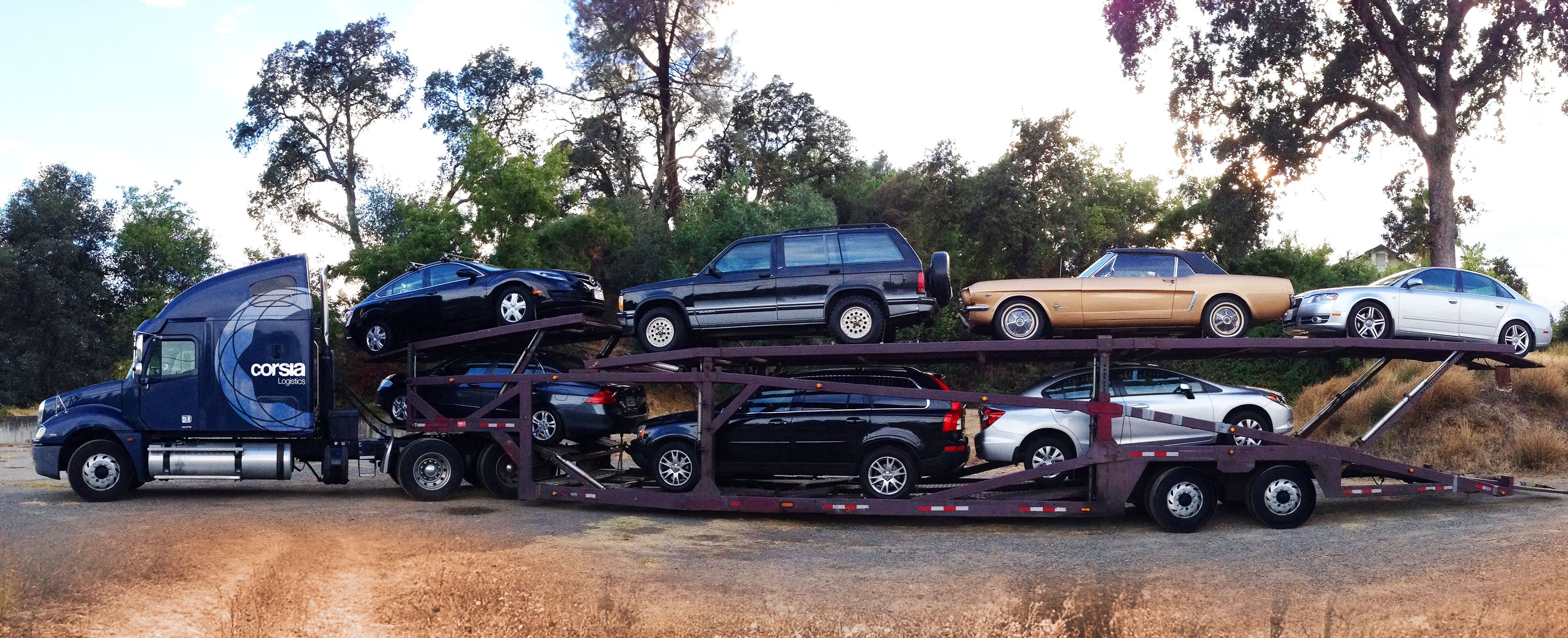 Single level multi-car carrier – often booked for expedited deliveries or more special cars, such as sports or luxury automobiles.
Single vehicle dully truck with tow trailer – often used for local deliveries.
For costs and more details, you can either call us or browse our website.
What is an enclosed auto transport service?
Enclosed car transport carrier is also called covered. This type of carriers are a preferred option for high-end, sports, luxury and classic vehicles. Enclosed auto transport protects from the weather and road elements we mentioned in the previous section. However, this comes at a price. Enclosed car shipping is more expensive – often almost double the price than it would cost to book an open carrier.
We will share a few reasons why enclosed trailer is a more expensive option.
One reason is that the trailers are more expensive, and this means that fewer truck drivers will buy them and work with them to offer the service. Most enclosed trailers have hydraulic ramps to hold the vehicle in a horizontal position while loading. Such ramps facilitate loading of low ground clearance vehicles.
The other reason is the availability. We already said that about 90 percent of the carrier in the US are open, which leaves us with about only10 percent enclosed. This makes them less available to reserve and thus more expensive especially when demand is high on a certain route.
Reason number three is efficiency. Just like with open, enclosed car carriers can fit certain number of cars. With enclosed fewer cars can fit inside, which makes them less efficient that open and thus more expensive. Customers can get their car shipped via enclosed trailer with five other cars inside, or with seven, but never with ten as it is with open trailers.
The last reason we will mention is value. With open, you get the standard service, while with enclosed shipping becomes a more personal experience. Enclosed trailer provides more protection for the cars inside, but the service itself includes more personal care from the driver as well. Drivers of enclosed trailers have more experience with high-end vehicles and they know how to handle such automobiles with care. And this they will do for any vehicle they need to transport. These drivers often offer "white glove" service, where they put real white gloves on.
If money is not an issue for you when it comes to shipping your car, then we recommend enclosed auto transport service. For most people, their car is a big investment and when it comes to shipping they prefer the most secure mode of transport. Yet, open vehicle transport is safe as well. Hundreds of new cars are transported via open carriers daily. It is a matter of personal choice and the amount of money you can spend.
What types of enclosed carriers can I choose from?
Two standard types of enclosed trailers can be found on the market in terms of trailer structure. You can have soft-sided and hard sided. In terms of car spots, there can be multi-car trailers and single or two car trailers. A multi-car trailer can load up to seven vehicles and these are usually cheaper among the enclosed trailers options. Single or two-car trailers are more expensive and often used for express deliveries or shipping of some very special vehicles.
To learn more about costs and enclosed shipping call or browse our website. For a visual of how it works, watch our video of open auto transport carrier loading a 1995 Porsche 911.
Multi car carrier enclosed trailer
Single car enclosed trailer
How much does vehicle transport cost?
Open auto transport is cheaper than enclosed. This is the basic fact to start your research and planning with. You already know why. The availability of open carriers and their efficiency is higher and this leads to lower rates.
Booking an enclosed carrier is more expensive than open. Due to all the reasons we listed above, enclosed carriers are usually booked for high-end automobiles. These are expensive cars that require the protection of enclosed trailers and this ultimately costs more.
The final cost to ship a car depend on all factors, including the type of trailer you choose. Other prominent and important factors are, of course, make and model of the vehicle, and distance. We always recommend that customers collect several quotes and compare the rates. This will help with understanding the price spectrum and choosing more wisely. Do not choose the lowest quote or the highest. Our advice is to aim for the golden middle. This is a price that is neither too high, nor too low. You have to aim for a realistic market price. This is a real time price that reflects on current supply and demand situation, and not just static factors such as make and model, distance and type of trailer.
Call us now to discuss your options and budget. We will explain how auto transport works and what is a realistic price that will ship your vehicle in a timely manner.
How do I choose the best type of transport for my vehicle?
Choosing a type of trailer to transport your automobile is entirely a personal preference. Many high-end cars are transported on an open trailer and many everyday sedans in enclosed. It is customers' personal choice what type of trailer to book for their vehicle.
Most people opt for an open trailer because it is cheaper and faster. Open trailers are more easily booked, which means your car gets picked-up faster. Transport time is usually important for most customers, and when you can get your vehicle to be picked-up faster that is what you choose. With enclosed trailers, it may take a couple more days to get a truck assigned due to their availability, as we discussed. So, time is one reason for people to choose open trailer services.
The other aspect that usually matters most to customers is protection. As explained, enclosed trailers offer more protection. They guarantee that weather and road debris will not affect your vehicle. Also, the truck drivers of such trailers have experience with high-end automobiles which means special attention and white glove service.
Think about all aspects we discussed in our guide here about open vs. enclosed auto transport. The money you are willing to spend, the time you are willing to wait and the protection you prefer will determine your choice.
For more questions, call us to discuss your service and preferences. You can request a quote on the phone or get one here on our website. We are here to help you ship your car safe and sound to your destination.
Save
Save
Save
Save
Save
Save
Save
Save
Save